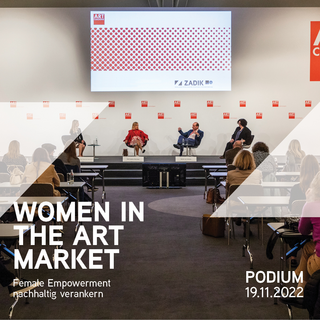 A panel coinciding with 30 years of ZADIK – Highlights and Insights at Art Cologne (16-20 Nov 2022)
19.11.2022 | 11:30 a.m.-1:00 p.m., Koelnmesse, Europasaal

Panel guests: Anita Beckers (gallery owner, Galerie Anita Beckers, Frankfurt/Main), Dr. Christiane Hoffmans (culture journalist, Welt am Sonntag, Düsseldorf), Carolin Scharpff-Striebich (collector, Scharpff & Scharpff-Striebich Collections), Annegret Soltau (artist), moderated by Nadine Oberste-Hetbleck (ZADIK)
The panel discussion jointly organized by koelnmesse and ZADIK will examine the context of social developments, gender discourse and socio-demographic aspects as well as network and market strategy analyzes with regard to women in the art market, particularly in the 20th and 21st centuries. century to the present, reflect critically and discuss.

A visit to the fair is possible afterwards.
Further information on the event and registration can be found on the academic blog Women in the Art Market or on the ART COLOGNE website.