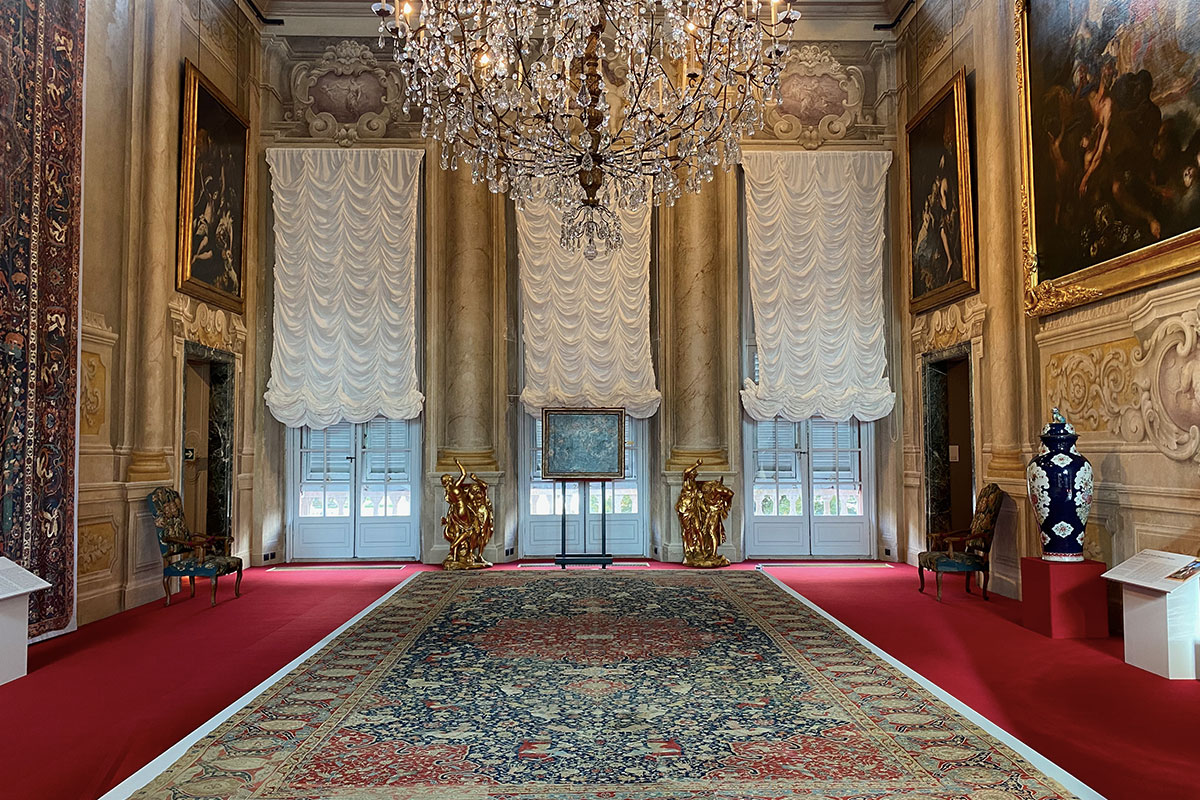 This two-day colloquium In memory of Dr Alessandro Bruschettini, 1939-2021 in English language only will bring together experts in historical carpets, historians of art, and specialists from other disciplines to catalyze new research and foster dialogue about the fascinating carpets attributed to the Kerman region of Safavid Persia. Held over the last weekend of the exhibition The Magnificent Sanguszko Carpets at Palazzo Rosso, Genoa, join us to see and learn more about arguably some of the most important Safavid carpets in the world discussed by a distinguished panel of international scholars. 
Friday, 10 February Genoa
09:00-13:15 Introduction to First Day Sessions, Chair: Claus Peter Haase, Berlin and Hamburg 
What may be discovered from studying the carpets
1. The Sanguszko Carpets, Michael Franses, Florence
2. The Technique of Carpets Attributed to Kerman, Anna Beselin, Berlin
3. Some Shaped Kerman carpets in Persia, Turaj Zhuleh, Tehran
Histories of Kerman
4. Kerman as a Centre of Art Production: Historiography, Material Indices & Legacies of Attribution, Sarah Molina, Cambridge
5. Wool trade, Kerman as an economic nexus, Rudi Matthee, Delaware
Afternoon programme for colloquium attendees only (timings still to be concluded).
The Magnificent Sanguszko exhibition at Palazzo Rosso with Michael Franses
Persian Figures: Rubens, The Genoese and Safavid Art at Palazzo Bianco with Eleanor Sims
Kerman Carpets in Italian Collections a private pre-view of an exhibition in the planning; some fifty Kerman carpets made between 1550-1720 survive in Italian collections, ten outstanding examples have gathered together Research is currently in progress and a venue has still to be chosen.
Saturday, 11 February Genoa
09:00-13:15 Introduction to Second Day Sessions, Chair: Stefan Weber, Berlin
Aspects of Iconography and Design
6. Colour in Persian Art, William Robinson, London
7. Saz Leaves and Flowers, Filiz Çakır Phillip, Denmark
8. The Kirman carpets: some iconographic puzzles, Robert Hillenbrand, Edinburgh and Oxford
Carpets and other media
9. Depictions of Carpets in Paintings and Drawings leaf, Moya Carey, Dublin
10. Strapwork Designs in Sanguszko Carpets, Architecture & Ceramics, Fuchsia Hart, Oxford
Reflections & Conclusions Vera-Simone Schulz, Florence
—
Registration is required to attend any of the events. HALI Subscriber £ 75 per person, non-subscriber £125 pp, 
(a limited number of places will be reserved for registered students at a discounted price of @ £40)
There are limited places available at events so please register early though hali.com.
hali.com/articles/the-hali-colloquium-in-italy-florence-milan-turin-and-genoa/
Further events have been arranged for colloquium attendees starting in Florence on the 5-6 February, in Milan on the 7-8 February, in Turin on the 9 February.
Sponsored by the Tassara Foundation