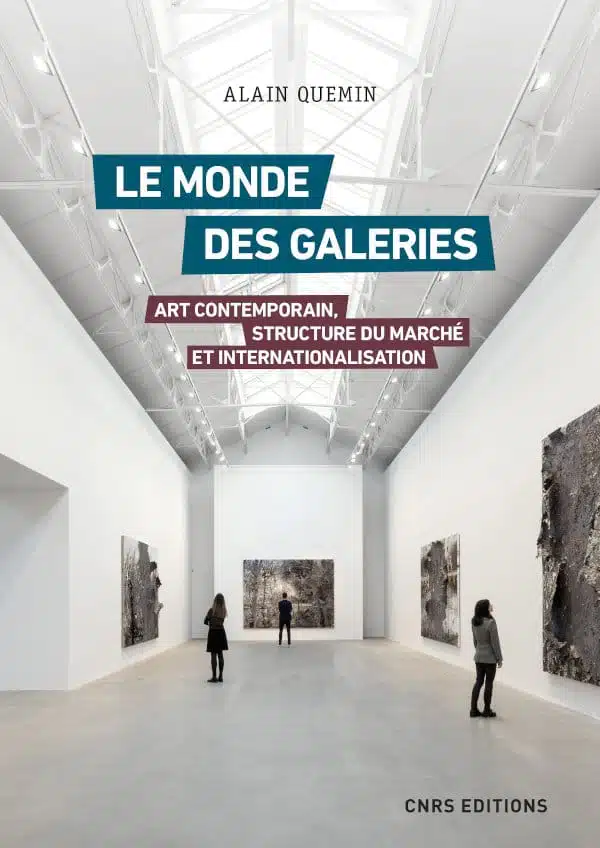 Alain Quemin, Le monde des galeries. Art contemporain, structure du marché et internationalisation, Paris CNRS Editions, 2021, 470 p. 
In an era of so-called globalization, marked by the rise of major international fairs, what transformations have affected the contemporary art market and its players? From Paris to New York, via London, Berlin, Los Angeles but also Hong Kong, Venice and Basel, this sociological survey outlines the new geography of galleries and delivers an ethnography of the daily work of gallery owners and their collaborators.
Penetrating the invisible "backstage", it reveals the type of relationships that professionals forge with collectors, the role of friendship – and champagne – in this merchant activity which paradoxically constantly runs the risk of being disqualified as "commercial". It thus highlights the place of galleries, alongside auction houses, public institutions and critics, in creating the "value" of art today and their ever-increasing role in defining contemporary art.
This large-scale research does not hesitate to face sensitive questions: is it possible to objectify the "quality" of galleries which, for the largest of them, now compete with museums? How to prioritize them, establish a ranking? And, therefore, what are the "best" contemporary art galleries to date, both in France and in the entire world?
To all these questions, and many others, this book that is the result of ten years of fieldwork, provides new answers, by combining the various tools of sociological analysis with an intimate knowledge that only makes possible the long-term frequentation, as an insider, of a world that often remains little known.
Exceptional class university professor in sociology, attached to GEMASS – Sorbonne University, senior member of the Institut Universitaire de France, also a regular contributor for ten years to the artistic press, Alain Quemin has notably published Les Stars de l'art contemporain (CNRS Éditions , 2013).
https://www.cnrseditions.fr/catalogue/arts-et-essais-litteraires/le-monde-des-galeries/